Beverly Pepper
http://www.women.it/oltreluna/vocidiartiste/girandopersanfrancisco.htm
http://www.viviconstile.it/articoli/200513629/acciaio-corten-dallarchitettura-al-design
http://milanoartexpo.com/2011/08/22/beverly-pepper-brufa-broken-circle-nel-parco-delle-sculture-di-brufa-lopera-di-una-grande-scultrice/
http://womenslifestyle.com/meijer-gardens-opens-exclusive-beverly-pepper-retrospective/
°°°°°°°°°°°°°°°°°°°
Louise Bourgeois
L'artiste américaine d'origine française Louise Joséphine Bourgeois naît à Paris le 25 décembre 1911, de Joséphine Fauriaux et de Louis Bourgeois. Louis travaille avec sa femme et sa belle-mère pour la Maison Fauriaux, galerie spécialisée dans la restauration et la vente de tapisseries du Moyen Âge et de la Renaissance et d'autres antiquités. Louise Bourgeois décède le 31 mai 2010 à New York.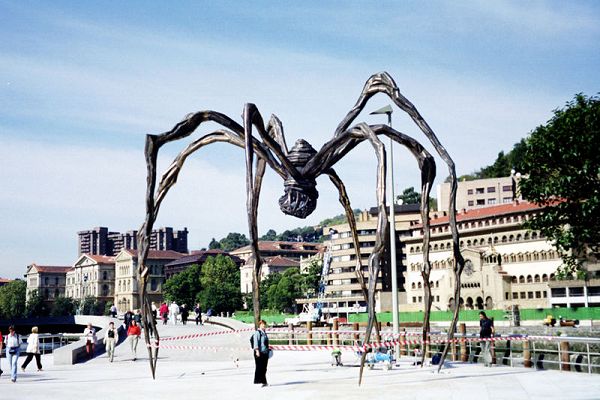 Sculpture de Louise Bourgeois. Photo : Phillip Capper
Louise Bourgeois grandit au sein d'un univers féminin de couturières, parmi les pelotes de fils et les aiguilles. Sa mère dirige le travail, tandis que son père collectionne les antiquités et court le jupon. En 1922, il engage Sadie Gordon Richmond pour enseigner l'anglais à ses enfants, une jeune Anglaise qui devient sa maîtresse et vit périodiquement avec la famille jusqu'en 1932.
A l'âge de 12 ans, Louise Bourgeois réalise ses premiers dessins, notamment des représentations de jambes et de pieds. Elle commence son premier journal intime. En 1925, à l'occasion d'une visite au Salon des arts décoratifs et industriels modernes, Louise découvre le style Art déco, ainsi que les oeuvres de Vladimir Tatline et de Frederick Kiesler.

En 1929, elle s'inscrit à l'École nationale d'art décoratif.
Admise à l'École des beaux-arts de Paris, elle la quitte pour aller étudier dans divers ateliers de Montmartre et de Montparnasse, notamment chez Paul Colin en 1934, chez Roger Bissière, à l'Académie Ranson de 1936 à 1937 et chez Othon Friesz, à la Grande-Chaumière de 1937 à 1938.
En 1936, Louise Bourgeois expose dans le cadre de l'exposition de l'Atelier de la Grande-Chaumière à Paris. En 1937, elle étudie l'histoire de l'art à l'École du Louvre et travaille comme guide au Musée du Louvre.
En 1938, Louise Bourgeois étudie auprès de Charles Despiau, Marcel Gromaire, André Lhote et
Fernand Léger.
La même année elle rencontre Robert Goldwater avec qui elle se marie. Le couple s'installe à New York.
En 1945 se déroule sa première exposition solo à la Bertha Schaefer Gallery de New York. En 1947, Pour sa deuxième exposition individuelle, elle présente à la Norlyst Gallery un groupe de dix-sept tableaux, parmi lesquels Red Night et Regrettable Incident in the Louvre Palace.
Louise Bourgeois adopte la nationalité américaine dans les années 50.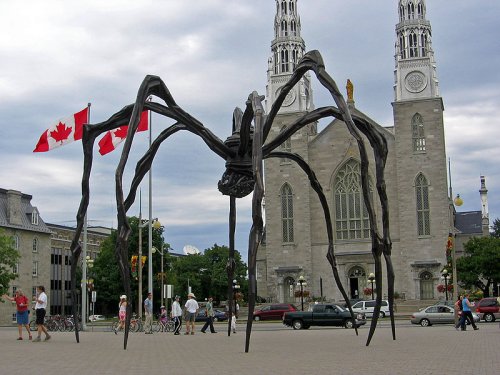 Sculpture de Louise BourgeoiDans
les années 60, elle expérimente des formes plus organiques et des matériaux moins stables, notamment le plâtre, le latex et le caoutchouc. Elle commence à enseigner l'art dans des écoles, ainsi qu'au Brooklyn College et au Pratt Institute, à Brooklyn.
En 1977, Louise Bourgeois est nommée Docteur honoris causa es beaux-arts de Yale University. En 1980, elle reçoit l'Award for Outstanding Achievement in the Visual Arts. Une rétrospective de Louise Bourgeois se déroule au Museum of Modern Art en 1982.
En 1983, Louise Bourgeois est nommée Docteur honoris causa es beaux-arts du Massachusetts College of Art, à Boston, et Officier de l'Ordre des arts et des lettres par le ministre français de la Culture.
La première rétrospective européenne de Louise Bourgeois se tient au Kunstverein de Francfort en 1989.
En 1995, a lieu l'exposition "Louise Bourgeois. Pensées-plumes" au Musée national d'art moderne, Centre Pompidou.
Le musée d'Art contemporain de Bordeaux (CAPC) monte l'exposition "Louise Bourgeois" en 1998. Puis, le Museo Nacional Centro de Arte Reina Sofía, à Madrid, monte la rétrospective "Louise Bourgeois. Memory and Architecture".
En 2007, la Tate Modern de Londres et le Centre Pompidou de Paris, organisent une rétrospective de l'oeuvre de Louise Bourgeois, qui voyage, jusqu'en 2009, au Solomon R. Guggenheim Museum de New York, au Museum of Contemporary Art de Los Angeles et au Hirshhorn Museum and Sculpture Garden de Washington
.http://www.moreeuw.com/histoire-art/biographie-louise-bourgeois.htm