Study: Just 227 tree species dominate Amazon landscape
By Mark Kinver
Environment reporter, BBC News
17 October 2013 Last updated at 20:48
http://m.bbc.co.uk/news/science-environment-24567421
Researchers were surprised to find that
such a small proportion of species dominated the Amazon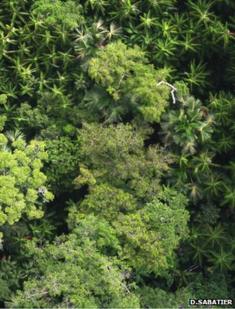 "We knew that, normally, a few species dominate ecosystems, but if you have a system that has 16,000 tree species but just 227 make up half of the trees, that was pretty surprising even for us," said lead author Dr Hans ter Steege from the Naturalis Biodiversity Center in the Netherlands.
[...]
tolerant, typically large-seeded climax secies with dense wood and shade-intolerant, small seeded pioneer (species) with light wood," they observed.
[...]
Dr ter Steege said the data could also be used by conservationists to find out what species were found in protected areas, such as national parks, and what ones were located in unprotected areas, and were therefore vulnerable to threat such as deforestation.
OOOOOOOOOOOOOOOOOOOOOOO